How will the future of cities look like? In January, city representatives and experts gathered to discuss how to build smarter cities that work for all their residents at the 'Imagine the Urban Future' conference co-organised by the Green Digital Charter (GDC) and the EUROCITIES Knowledge Society Forum (KSF)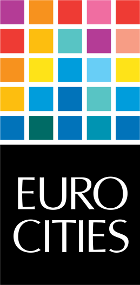 This was the first gathering of a series of 'Imagine the Urban Future' events, launched by EUROCITIES for 2018, an occasion to take an in-depth look at EUROCITIES' vision, priorities and actions. At the conference, participants brought their local experiences in working for a better urban future through the use of ICT and digital technologies, in particular related to environmental challenges and the future of work.
At the Green Digital Charter's you can find all the interviews recorded at the conference.
(Source: EUROCITIES)